Keeping the brand in the lead is no easy task—especially with an unprecedented pandemic disrupting every operational aspect of the business. But for this Kuantanite, rising above the occasion has always been his go-to. Mr. Sarly Adle Sarkum shares with us the things that bring him joy, in life and career wise.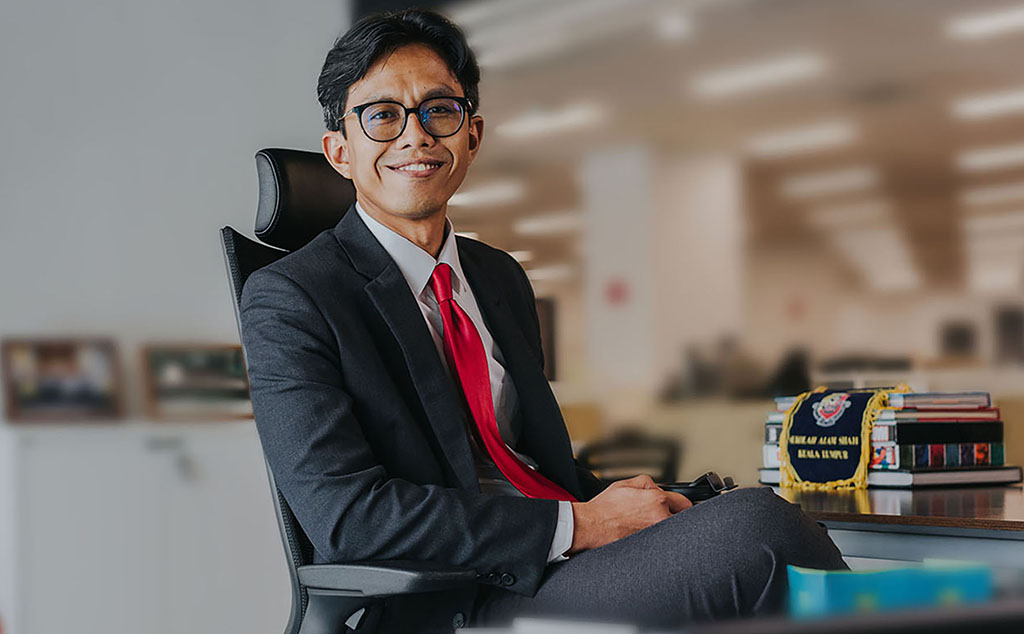 However, before we get into the details, here are some bits of information that we managed to squeeze out of this 43-year old, whose favourite colours happen to be the hues of Honda: White and red. One of his most cherished reads is Born to Run, which follows American author and journalist Christopher McDougall into the Mexican Copper Canyons to survey the introverted Tarahumara Native Mexican tribe.
He has a long list of favourite anthems, but Lady Gaga's "Applause" and Fort Minor's "Remember the Name" have the power to spur him into action. To this day, his top movie recommendation is the anime Ghost in the Shell (1995), which he commends for maintaining its futuristic air, even 26 years after its first screening!
That's not all that is timeless for this president: When it comes to the topic of his favourite dish, his wife's beef barbecue has always been able to hit the spot. Now that we have more background regarding the man, let's dive into the meat of the conversation.
The Early Years
Could you tell us a bit about your background and early years? Especially the moments, places and people that had a great effect on you and perhaps even defined you as a person?
The two people that had a great influence on me were my parents. Though I grew up in a loving and comfortable environment, both came from a difficult background, so I am grounded by the constant reminders on the realities of life, to push hard when the opportunity presents itself, and to help others when you are in a better position. As my grandpa told my father and he told me, "You are chosen in the position to lead so you can help others."
Education
What made you decide to choose an engineering education and not something in the Arts, as you were also the President of the Arts Club at school?
During the 90s, the arts field was not really an open option if you are interested in it, especially if you are on a government scholarship. I am artistic by nature as I love arts and music. The most relevant then would be architecture, but as I love cars too, mechanical engineering came as the nearest logical option. Throughout the years, both engineering education and artistic experiences are key in creative and out of the box (OOTB) thinking. It allows a better perspective of living in reality but having the dream to change it.
Personality
What are your hobbies and passion?
Swimming and listening/playing music.
What are your dreams?
To contribute by bringing meaningful and impactful change to the people I touch, with not only words, but more by the examples that I show.
Do you have a hidden talent and if so, what is it?
I'm no Elton John but I can play the piano.

Career
You have many years of work experience in the C-suite position ranging from HICOM-Honda, Pos Aviation, and now Honda Malaysia, could you share with us what makes Honda cars and the company so special for you?
Honda cars and the Honda company are special to me as the founder, the late Soichiro Honda always pushed the boundaries, constantly challenging himself and making it simple for everyone to understand his vision via the '3 Joys'. I also love how Honda is laser focused on being a global mobility provider in both current and future technologies. This laser focus is then broken down to form the machinery of the Honda 'monozukuri' (to make things) that moves Honda forward.
As both a father to your family, and the COO of Honda Malaysia, how do you juggle your work-life balance, especially amidst the Covid-19 pandemic?
As one social media mogul puts it, work-life balance is both fictional and judgmental. There is no right and wrong when you say balance. You decide the amount of balance you want. For me, I'm lucky to have my wife as my partner in crime to achieve this balance. Thank you dear if you are reading this! 😉
What provides you the greatest joy in your work?
Seeing my peers and subordinates grow and succeed. As a leader, if you always focus on this, the rest will be fine.
Honda
Honda is known for its vision on the future, with the launch of All-New Honda City RS e:HEV and Honda Connect. Could you share with us how Malaysian consumers benefit from this?
The concept that we put forth for the All-New City was The Game Changer. The features available in the City variants set a new bar for the Malaysian B-segment and for our customers to enjoy state of the art products at affordable prices, true to Honda's philosophy.
Does Honda have anything exciting in store that you can share with us?
You didn't see the Civic 2022 World Premier on the internet? Where have you been all this time? Hints for 2021… 'tunggu'…
What has been the greatest challenge for Honda in dealing with the Covid-crisis, and how has Honda dealt with it?
During the earlier stages, supply chain was a major issue as global sourcing was affected by Wuhan being an automotive hub of the world, but this has since stabilized with support from various readily sourcing location from global manufacturing sites. We must also give special thanks to the Malaysian Government for spurring the automotive industry in CY2020 post MCO 1.0, which has allowed automotive businesses in Malaysia to reach some normalcy despite the pandemic. Kudos!
Despite a challenging 2020, Honda Malaysia triumphantly defended its position as No. 1 Non-National Car. How do you feel about Honda's achievements?
Feels really good! I would like to express my heartfelt gratitude to the Honda team for working tirelessly in 2020 to achieve this milestone for the 6th consecutive time, despite the challenging business environment. And to all Malaysians for your trust in the brand, 'terima kasih'.
Lastly, do you have anything you'd like to say to the readers of With Dreams?
Yes, to all readers of With Dreams, I want to share another beautiful quote that relates to dreams.
"The future belongs to those who believe in the beauty of their dreams."
– Eleanor Roosevelt
So let's work hard with sincerity to realize our dreams for a better tomorrow for all Malaysians. That's 'The Power of Dreams!'